Liepāja Region Tourism Information Office (LRTIO) has gathered statistics on city's tourism development in 2020.
The statistics in PDF format can be found here.
In 2020, 87 146 tourists have stayed overnight in Liepāja, which is 17.26% less than in 2019. The number of Latvian guests has decreased by 8.84%, while the number of foreign tourists – by 31.41%. The total number of nights spent in Liepāja accommodations decreased by 16.96% in 2020 and reached 143 683 nights. The average duration of the stay at Liepāja accommodations was 1.65 nights, which is the same as the year before.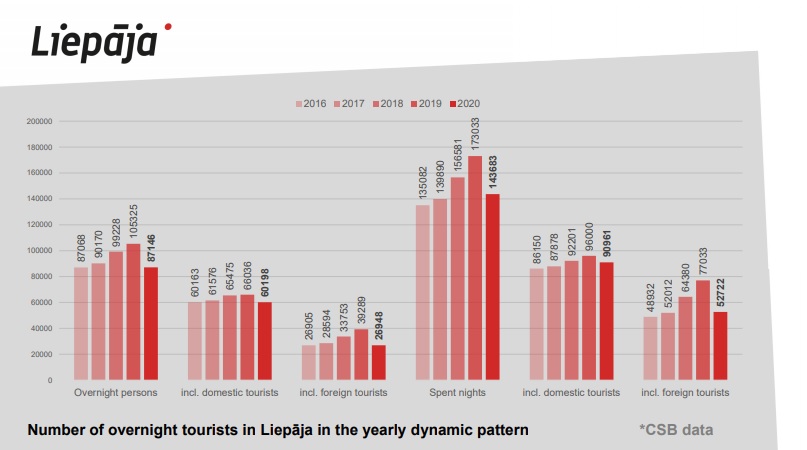 The highest accommodation capacity utilization according to CSB data in Liepāja was in August, when room occupancy was on average 73.71% (-0.71 percentage points compared to 2019) and bed occupancy 63.33% (-4.45 percentage points). The annual average room occupancy of Liepāja accommodations in 2020 was 33.7% (-13.7 percentage points), while the bed occupancy was 25.7% (-12.6 percentage points). In comparison, the average room occupancy in Latvia was 25.4% and bed occupancy – 23.1%, while in the capital Riga the numbers were 25.8% and 24.3 % accordingly.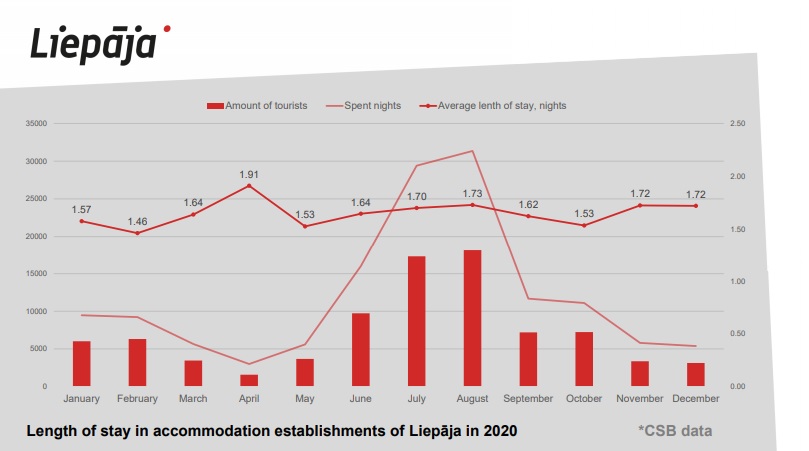 The monthly data analysis shows that the year started with reassuring numbers – in January and February, the number of visitors in Liepāja accommodations increased by 24.95% and 12.20%, respectively, followed by a severe drop in March, April and May. The lowest occupancy percentage was in April, dropping to -82.35%. In June, the accommodation business started to recover, and in July and August, there was a rise in the room occupancy by +16.95% and +29.35%, respectively. There was a slight increase also in October, but the end of the year was not encouraging at all.
In 2020, the TOP incoming tourist countries to Liepāja changed slightly. Lithuanian guests were still holding leading positions in the past year (58.24% of all foreign overnight tourists, an increase compared to 2019 +17,64%), followed by the other neighbouring country, Estonia (9.5%, +10.82%), Germany (7.51%, -62.55%), Russia (3.13%, -78.51%), Finland (2,94%, -27,38%) and Poland (2.27%, -47.43%) In total, there were guests from 84 countries in 2020 (98 in 2019), 18 of which had at least 100 tourists arrived.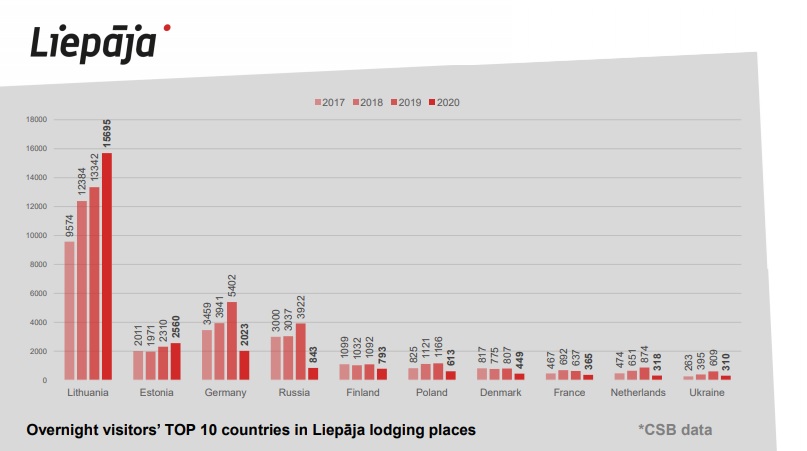 According to Liepāja airport data last year, Liepāja airport provided service to 3 834 regular flights passengers, which is 72.25% less than the year before. "AirBaltic" did not provide flights to Liepāja in the springtime due to the lockdown, and flights were suspended again in October after a short period of summer relief.
According to Liepāja Yacht Port data, 175 yachts were accommodated at Liepāja Port in 2020, 52.32% less than a year earlier. Most times, they represented Lithuania (88), Germany (30), Poland (19), Finland (12) and Sweden (8).
In 2020, the Liepāja Region Tourism Information Office (LRTIO) welcomed 13 424 visitors in person, which is 41% less than in 2019. The number of Latvian tourists has dropped by 1.53% (3343 tourists, 25% of the total number of visitors). The number of foreign tourists in the LRTIO has decreased by 54.25% (37% of total visitors).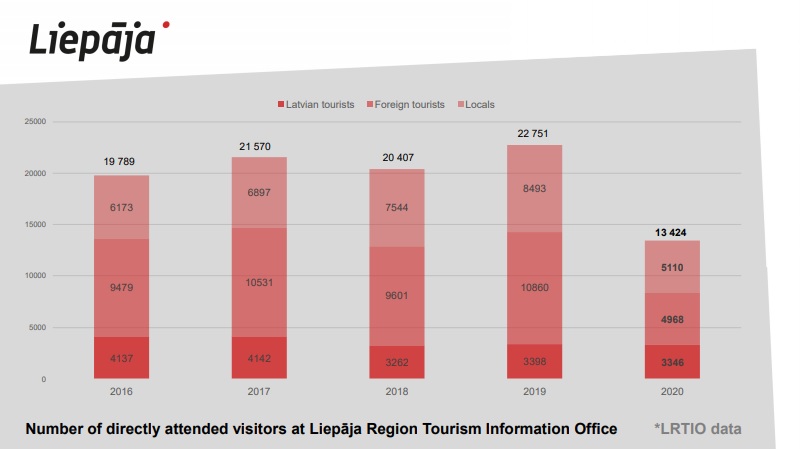 The number of local residents welcomed in the tourism information office has also decreased by 39.3% since the office was closed for two months in spring and at the end of the year due to the pandemic.
The total number of foreign tourists welcomed by the LRTIO in 2020 was 4 968, and only 4 countries had their tourists in numbers larger than 100. These tourists came from Lithuania (74.3% of the total number of foreign tourists; decrease compared to 2019, -12.7%), Germany (9.9%; -79.7%), Estonia (4%, +52.3%) and Poland (2.5%; -71.1%). Finland, France, Russia and the Netherlands follow this TOP four countries. In total, in 2020, tourists from 40 countries worldwide visited the LRTIO (61 in 2019).
As there were various gathering and assembly restrictions in Latvia for most of the year, the number of city guided tour bookings in the LRTIO has also fallen considerably. In 2020, the LRTIO organised 48 (-53.4% compared to 2019) city guided tours, where 782 (-67.4%) Liepāja guests took part in.
On the other hand, the "Let's meet at Roses Square!" tours, which are offered daily in June, July and August, were more popular last year than in the years before. 610 visitors attended these guided tours, which is by 43.5% more than in 2019.