Liepāja Region Tourism Information Office (LRTIO) has gathered statistics on city's tourism development in 2022.
The statistics in PDF format can be found here.
According to the information gathered by the Central Statistical Bureau (CSB), in 2022, the number of foreign tourists has increased by 146.5%, while the number of Latvian guests – by 2.2%. In total 102 770 tourists have stayed overnight in Liepāja, which is 29.8% more than in 2021 and only 2.4% less than in 2019.
The average duration of the stay at Liepāja accommodations was 1.75 nights, which is 0.1 nights more than the year before. The total number of nights spent in Liepāja accommodations increased by 31% in 2022 and reached 180 116 nights.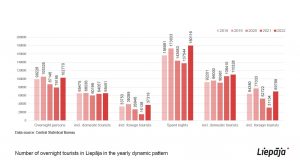 The annual average room occupancy of Liepāja accommodations in 2022 was 39.3% (+7.1 percentage points), while the bed occupancy was 31.2% (+7.1 percentage points).The highest accommodation capacity utilization according to CSB data in Liepāja was in August, when room occupancy was on average 74% and bed occupancy 63.2%.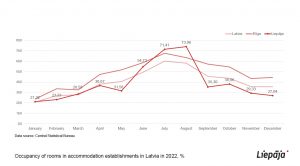 Analysing the data by month, in all months of 2022 there were more tourists in Liepāja accommodation than last year. The biggest increase was in January, when twice as many guests were accommodated than a year before, while from June to August and October there were even more guests than in 2019.
The leading TOP of incoming tourist countries is the same as the year before: Lithuania (16 432; 44% of all foreign overnight tourists; an increase compared to 2021 +187.5%), Germany (4 085; 11%, +142.2%) and Estonia (2 446; 6.6%, +138%). They are followed by Denmark (1 370; 3.7%; +142.5%), Poland (1 227; 3.3%, +41.7%), USA (1 119; 3%; +366.3%) and Great Britain (1 024; 2.7%, +171.6%). In total, there were guests from 103 countries in 2022 (82 in 2021), 24 of which had at least 100 tourists arrived.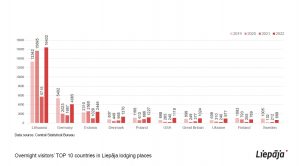 According to Liepāja Yacht Port data, 200 yachts from 11 countries were received at Liepāja Port in 2022. Most times, they represented Lithuania (67), Germany (56), Poland (28), Finland (22) and Latvia (12).
In the summer of 2022, six cruise ships, which brought 2,500 passengers, were received in Liepāja port. 47 group and 6 individual tours were organized for the guests of the city.
The total number of foreign tourists welcomed by the LRTIO in 2022 was 13 634, which is 90.4% more than the year before. Visitors from Lithuania, Germany, Poland, France, Great Britain and USA searched for information most often. In total, tourists from 49 countries worldwide visited the LRTIO in 2022.