The first Art Nouveau buildings were built in Liepāja at the beginning of the 20th century. It was a time when the city began to build many great buildings as a result of the economic upswing. Art Nouveau was the chosen style for rental properties and buildings of public interest, such as the theatre, schools, cinemas, and office buildings. Today there remain around 70 Art Nouveau buildings, most of them being built in a modest and simple manner, making them fit in harmoniously with the rest of the city's buildings.
The Art Nouveau heritage of Liepāja spans almost the whole length of Graudu Street and also Lielā Street.
Many buildings have kept the historical decorative finishes of stairwells, the original wooden doors, metal gates, handrails, fireplaces, floors, and other testimonies to the handiwork of local craftsmen.
Go for a walk and see the beautiful architecture of Liepāja. The map is available in PDF document.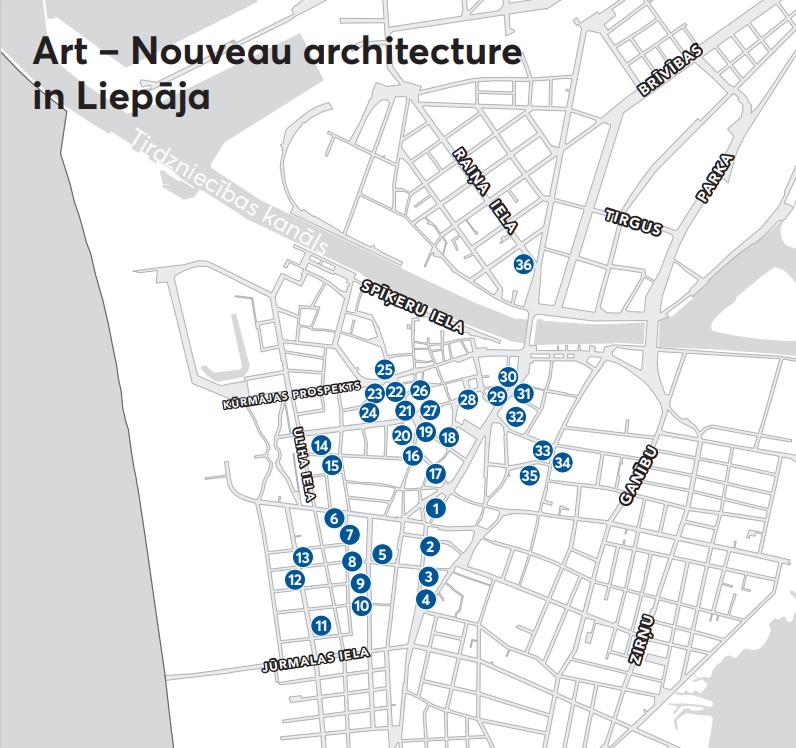 1. Residential building with shops, Tirgoņu iela 22
2. Butcher' s Market, Kuršu iela 5/9
3. Paul (Pavel) Mamonow tenement building, Kuršu iela 17
4. A.Milules tenement building, Kuršu iela 21
5. Semyon Klepenin tenement building, Rožu iela 8/10
6. K.Saule-Sleinis tenement building, Peldu iela 33
7. L.Freibergs tenement building, Toma iela 43
8. Residential house, Toma iela 49
9. Tenement house, Uliha iela 66
10. Tenement house, Uliha iela 68
11. Swedish consul Karl Ekblom mansion, Dzintaru iela 23
12. Wooden residential house, Dzintaru iela 16
13. Residential house, Dzintaru iela 9
14. Residential house, Republikas iela 28
15. H. Dārts tenement house, Republikas iela 19
16. Tenement house, Avotu iela 11
17. Tenement house, Avotu iela 4
18. Multifunctional building, Graudu iela 45
19. Oskars Tāls Fashion house, Graudu iela 46
20. Residential building with shops, Graudu iela 44
21. Karl Fischer tenement building, Graudu iela 36/38
22. C. Kagan tenement building, Graudu iela 34
23. Residential house, Graudu iela 28
24. Girls' gymnasium, Ausekļa iela 9
25. Russian – East Asian shipping company's office, Kūrmājas prospekts 2/6
26. Karl Stephen house, movie theatre "Palass" and multifunctional building, Graudu iela 27/29
27. Residential house with a shop, Dīķa iela 11
28. Residential house with a photo atelier, Pasta iela 11
29. Tenement building with shops, Pasta iela 1
30. Morduh Gordin tenement house with shops, Lielā iela 4
31. Store building with a restaurant, Lielā iela 5
32. City theatre, Teātra iela 2
33. Semyon Klepenin tenement building, Baznīcas iela 18
34. Residential house with a shop, Bāriņu iela 21A
35. Tenement building with shops, A. Pumpura iela 7
36. Fanny Hempel tenement house, Raiņa iela 1